New Releases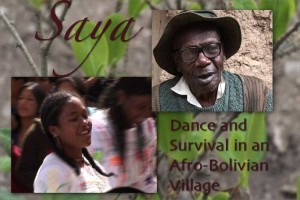 "Saya: Dance and Survival in an Afro-Bolivian Village"
Watch "Saya" trailer
In the coca heartland of Bolivia, slavery and liberation are still matters of living memory.  In this twenty-minute film, we visit the town of Tocaña, where African descendents worked as slaves until 1952, and local people still perform dances rooted in their African cultural heritage.  The film highlights the dilemmas of cultural survival and emergence for an endangered subculture in an era of global saturation.  Saya premiered at April 2013 at Austin's Cine Las Americas, and screened in May 2013 at the Latin American Studies Association Film Festival in Washington DC.  Saya is also an official selection of the San Diego Black Film Festival, the Pan African Film Festival, and the Africa World Documentary Film Festival.
"In one of its most buoyant moments, an all-black dance group entertains
the multicultural participants at a regional festival, resulting in a happy mix
of folks of different heritages literally dancing in the streets. Recommended. (3 stars)" – Video Librarian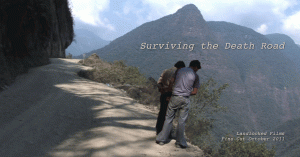 "Surviving the Death Road"
Watch "Surviving the Death Road" trailer
How much reality does the international adventure tourist truly want?  On the the "world's most dangerous road" in the Bolivian Andes, foreign mountain bikers and local truckers share a narrow shelf road known for its toll of accidents and deaths.   They pass within inches of each other, yet they are worlds apart.  Filmed over a five-year span, this 45-minute film tracks the inspiring journey of a local community into the global marketplace of the 21st Century.   Surviving the Death Road won Best Documentary at the 2013 Third World Indie Film Festival.
Introducing "Penny & Red"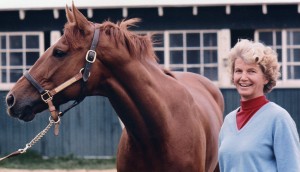 Landlocked Films is proud to announce the release of our newest documentary, Penny & Red: the Life of Secretariat's Owner.
Watch "Penny & Red" trailer
From her parents' climb out of poverty to her emergence as the 'First Lady of Racing,' Penny Chenery's life has been fueled by the love of horses. Forever paired with the great racehorse Secretariat, Penny's story also exemplifies the rise and sacrifices of women of her generation. The woman who emerges from this surprisingly candid documentary is no Disney princess. Yet Penny's unstinting reflection on her life of caged ambition, suddenly liberated by a horse of transcendent power, still gives off a shimmer of grace.
"A substantial and stunningly honest account of Penny's life — a vivid reflection off the many mirrors of her past, all of it made the more poignant and powerful by her unsparing self-reflection. In words and pictures, it has the uncracked ring of truth."
-Bill Nack, author, Secretariat: the Making of a Champion
"The historic value of the film was first-rate. And Penny was refreshing and enlightening in her candor. The racing highlight was the Belmont Stakes, with Penny superimposed against the race footage. This was excellent film-making, and it is obvious that John Tweedy is gifted at his craft. I highly recommend this film . . . as real-life and compelling a drama as one can squeeze into one hour."
– Steve Haskin, The Blood Horse
"An entertaining, eloquently tantalizing summation of one woman's journey through a modern era, during which much of her life was lived in a fishbowl of celebrity, now coming to terms with the world others did not see."
– Jay Hovdey, The Daily Racing Form
Penny & Red will screen at the Boulder International Film Festival, February 13-16, 2014.
You can order a DVD of Penny & Red at www.secretariat.com
Order a Film
To visit our online store to buy a DVD or VHS copy, click here. 
Available Films:
"Penny & Red: the Life of Secretariat's Owner" (go to www.secretariat.com)
"Saya: Dance and Survival in an Afro-Bolivian Village"
"We Thought You'd Never Ask: Voices of People with Autism" 
"Surviving the Death Road" 
"Streams of Gold"
"Song of Our Children"
"Iwo Jima: Memories in Sand"
"Lieweila: A Micronesian Story"
"Language and Culture: Respecting Family Choices"
"Earning the Right: The Story of INREAL"
"The Dance of Conversation"
"The Storybook Journey Series"
"Beyond Words: Effective Use of Translators, Interpreters, and Cultural Mediators"
"Full Circle: Language and Literacy at Home and At School"
"A Story About El Grupo de Familias"
"Turning 3, From C to B: Age 3 Transitions for Children with Special Needs"

"Working with Landlocked Films has been an experience I wish would never end. Beret and John have a way of welcoming you into the process of film making that respects what you are trying to accomplish. Their sensitive and professional interviewing helped me to crystallize my thinking about what I wanted to teach and share with the material they were going to film. They provide a partnership where creativity can flourish and  integrity is never compromised. I am thrilled with the results."
– Sue McCord, co-producer, "The Storybook Journey"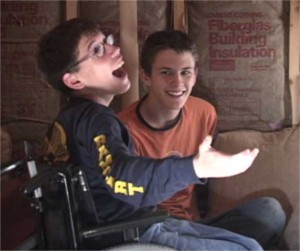 Looking for the Landlocked Film Festival?